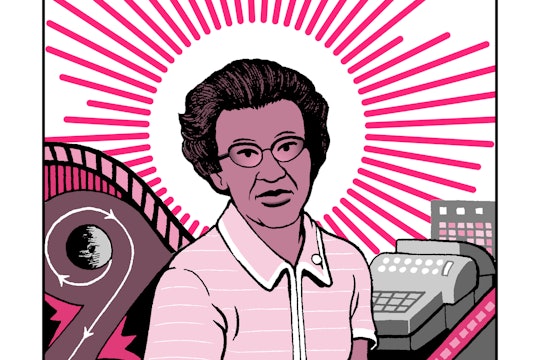 Meet Katherine Johnson, the computer who helped send men to the moon
John Glenn wouldn't blast off until she double-checked the IBM's calculations
You probably know the name Katherine G. Johnson from the popular book-turned-movie "Hidden Figures." In the film, Johnson (played by actress Taraji P. Henson) is the protagonist who double-checks the numbers produced by the newly installed IBM computer before the astronaut, John Glenn, launches into space. She was pretty badass in the movie. In real life, she was even more incredible.
Johnson was born in 1918 in White Sulphur Springs, WV. She turned 100 on August 26, 2018. Johnson left her mark as a brilliant woman working as a human computer during the space race in the 1950s and '60s. On top of that, her charismatic personality and life story make her all the more endearing: an African-American girl from rural West Virginia, she counted her way to reach the stars.
She loved what she did
Katherine Johnson loved numbers from an early age. Her love of counting – steps, number of dishes she washed, and even the stars – primed her for starting high school as a 10-year-old. She excelled in school, devouring knowledge and starting college at just 15. Her professor at West Virginia State College, William Waldron Schieffelin Claytor, the third African-American to receive a PhD in mathematics, recognized her gift with numbers. He encouraged Johnson to become a mathematician, mentoring her and even creating a special advanced class for her about the geometry of outer space.
Soon after graduating from college with highest honors in 1937, she started teaching. She was later one of three students, and the only woman, chosen specifically to desegregate the graduate school at West Virginia University. She never completed her graduate degree because of her desire to start a family (she raised three daughters) and her husband falling ill (he died from cancer in 1956). But she never forgot her dream of becoming a research mathematician.
She was a trailblazer
In 1952, after years working as a teacher and a stay-at-home mother, Johnson heard from a relative that the National Advisory Committee for Aeronautics (NACA, a precursor to NASA) was hiring African-American "computers." She applied for a position and was accepted, moving her whole family to VA to pursue her dream. In 1953, she started work at the Langley Research Center in Hampton, VA as a "computer who wore skirts." These human computers ran all the calculations for the engineers, helping to accelerate the space program.
Johnson fell in love with her job as soon as she started. She often worked 14-16 hour days, eyes bleary from staring at small numbers. But she remembered always being eager to go to work in the morning. Her ability to solve the complicated mathematical equations and geometry led to her invitation to join a team, the Space Task Force, that helped send the first man to the moon.
At Langley, Johnson became known as someone who asked questions to understand and asserted herself as a leader. She requested permission to sit in on the NACA briefings, where much of the important information related to the orbital trajectories was discussed, but her request was denied. She wasn't deterred. Instead, she asked if there was a law stating that she wasn't allowed in the briefing room (as Virginia was still deeply segregated at the time, it was a legitimate question). When told by the male engineers that women just weren't usually in the briefings, she explained persistently how important it was for her to understand the trajectories so that she could do the appropriate calculations, and she became the only woman in the briefings room.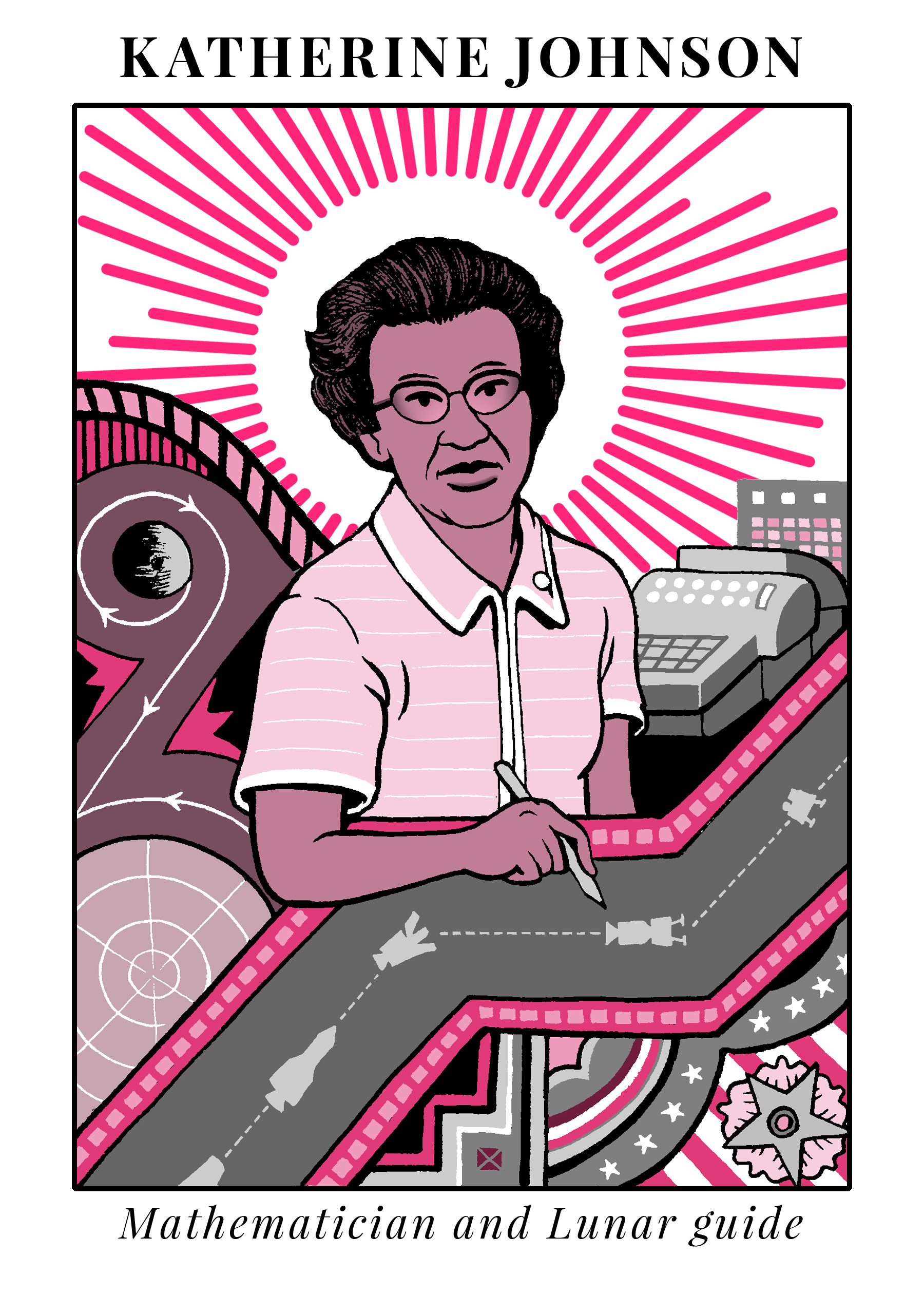 In 1960, she co-authored a report with a NASA engineer, the first time a woman in the Flight Research Division had received credit as an author for a research report. She calculated the trajectory for America's first crewed trip to space with Alan Shepherd in 1961 and did all the calculations for the 1969 Apollo 11 moon landing with Neil Armstrong, Buzz Aldrin, and Michael Collins.
But she was most famous for her work on the 1962 orbital mission by John Glenn. Langley had recently acquired their first IBM computer and it was programmed to calculate the trajectory of Glenn's orbit from take-off to splashdown. But the new computer was still prone to some hiccups, making the astronauts hesitant to trust the computer's calculated trajectory. Glenn specifically requested that Johnson perform the same calculations as the computer, but by hand. She remembers him saying, "Get the girl to check the numbers…if she says the numbers are good, I'm ready to go."
It took her a day and a half to perform the calculations, but the numbers matched. Glenn's flight was a success, marking a turning point in the space race between the US and the Soviet Union. Her calculations – by hand – of complex mathematical equations helped get space heroes like Alan Shepherd, John Glenn, and Neil Armstrong into space - and more important to her - successfully home.
She inspired generations of women
Not only was she one of a small number of women employed by NASA during this era of space travel, she was also part of the even smaller subset of African-American women employed at the time. She did the same work as her white computer colleagues, yet African-American computers were paid less and worked in a separate, all-black West Area Computing section at the Langley Research Center.
Johnson retired in 1986, earning three Special Achievement Awards during her 33 years with NASA. She has received three honorary doctorates recognizing her as a pioneer in the American space movement. In 2015, at age 97, President Obama honored Katherine Johnson for her extraordinary work helping launch the US into space by awarding her the Presidential Medal of Freedom, America's highest civilian honor. NASA's Langley Research Center honored her in September 2017 by dedicating a new building in Hampton, VA, the Katherine G. Johnson Computational Research Facility. Achieving popular culture fame, on International Women's Day in 2018, Mattel released a Katherine Johnson Barbie, part of the Inspiring Women line of dolls.
A remarkable woman, she was modest, adhering to her father's philosophy that "You are no better than anyone else, and no one is better than you," saying in an interview in September 2017, that she "didn't do anything alone." Her path to becoming such a successful mathematician at NASA was influenced greatly by Dorothy Vaughan, head of West Computing where Johnson first started, and all the strong, persevering women who helped pave the way during the early years of aeronautics.
Finally getting the acknowledgment she deserves for her incredible dedication and mathematical genius that she brought to the American space-race, Johnson still explained that she was just doing her job. She encouraged careers in science, engineering, and technology with wisdom we can all hope to fulfill: "like what you do and you will do your best."
Katherine Johnson passed away on February 24th, 2020, after inspiring countless space scientists in the past, present, and future.
Originally published March 22nd, 2018.