Scientists use the humble slime mold to map the universe's cosmic web
This mysterious Earth-dwelling organism can tell us a lot about the structure of outer space
What do a single-celled slime mold and outer space have in common? Enough, it turns out, that researchers were able to use the behavior of the slime mold Physarum polycephalum to develop an algorithm to map the previously elusive cosmic web structure of the universe.
It started when scientists at the University of California at Santa Cruz were searching for a way to visualize the cosmic web. Composed of dark matter and laced together with thin gas, the cosmic web provides structure to the universe. Oskar Elek, a computational media scientist on the team was inspired by the work of Sage Jenson, a Berlin-based media artist who creates art by using algorithms to mimic biological properties, such as the growth of slime mold.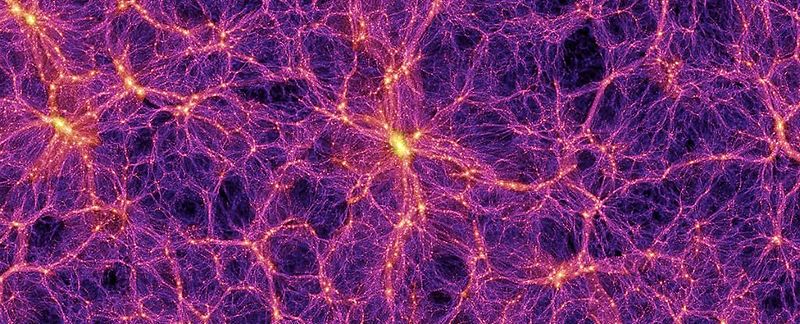 The slime mold, Physarum polycephalum, uses a complex web of filaments to find food. The scientists couldn't help but notice similarities between the mold's food-seeking web and the theorized cosmic web that connects the galaxies. Published in The Astrophysical Journal Letters, the group developed a three-dimensional computer model of the buildup of slime mold to estimate the locations of many of the cosmic web's filaments.
By using data previously acquired by the Sloan Digital Sky Survey and the Hubble Spectroscopic Legacy Archive, the researchers created a new view of the galaxy.
First, they applied the "slime mold algorithm" to data containing the locations of 37,000 galaxies at distances as far as 300 million light-years and came away with a three-dimensial map of the underlying cosmic web structure. They also used data from quasars, massive objects billions of light-years away that emit huge amounts of light energy, to visualize the extremely thin hydrogen gas signatures on the web that had been previously undetected. With the large scale structure in hand, the group hopes that they can now map specific trajectories that galaxies take as they move through the universe.
Remember this story the next time your microbiologist friend says they don't have anything in common with your particle physics friend. The most impressive advances in science are often those made by scientists who work together and build connections between fields.