We need better volcano forecasts to prevent tragedies like New Zealand's Whakaari explosion
Researchers are working on modeling eruptions to prevent loss of life when volcanoes explode
Two weeks ago, Te Puia O Whakaari Island, off the coast of Aotearoa (New Zealand), erupted, killing at least 16 people. The volcanic alert level for the island was raised to Level 2 in November, suggesting the volcano may be entering a state of increased volcanic activity. But what does a Level 2 mean? And is it even possible to forecast when a volcano can erupt?
Raising the volcano to a Level 2 indicates changes in volcanic parameters (like seismic activity). Levels 1 and 2 relate to volcanic unrest, while levels 3-5 indicate current eruptions. GeoNet, a hazard monitoring program of Aotearoa, indicates that eruptions can occur at any level on the scale, and sometimes no eruptions occur even after alert levels are raised. After the island was raised to a Level 2, an eruption likelihood was calculated on December 2nd, estimating an 8 to 14% chance of an eruption in the following 4 week period. The eruption occurred 7 days later on December 9th.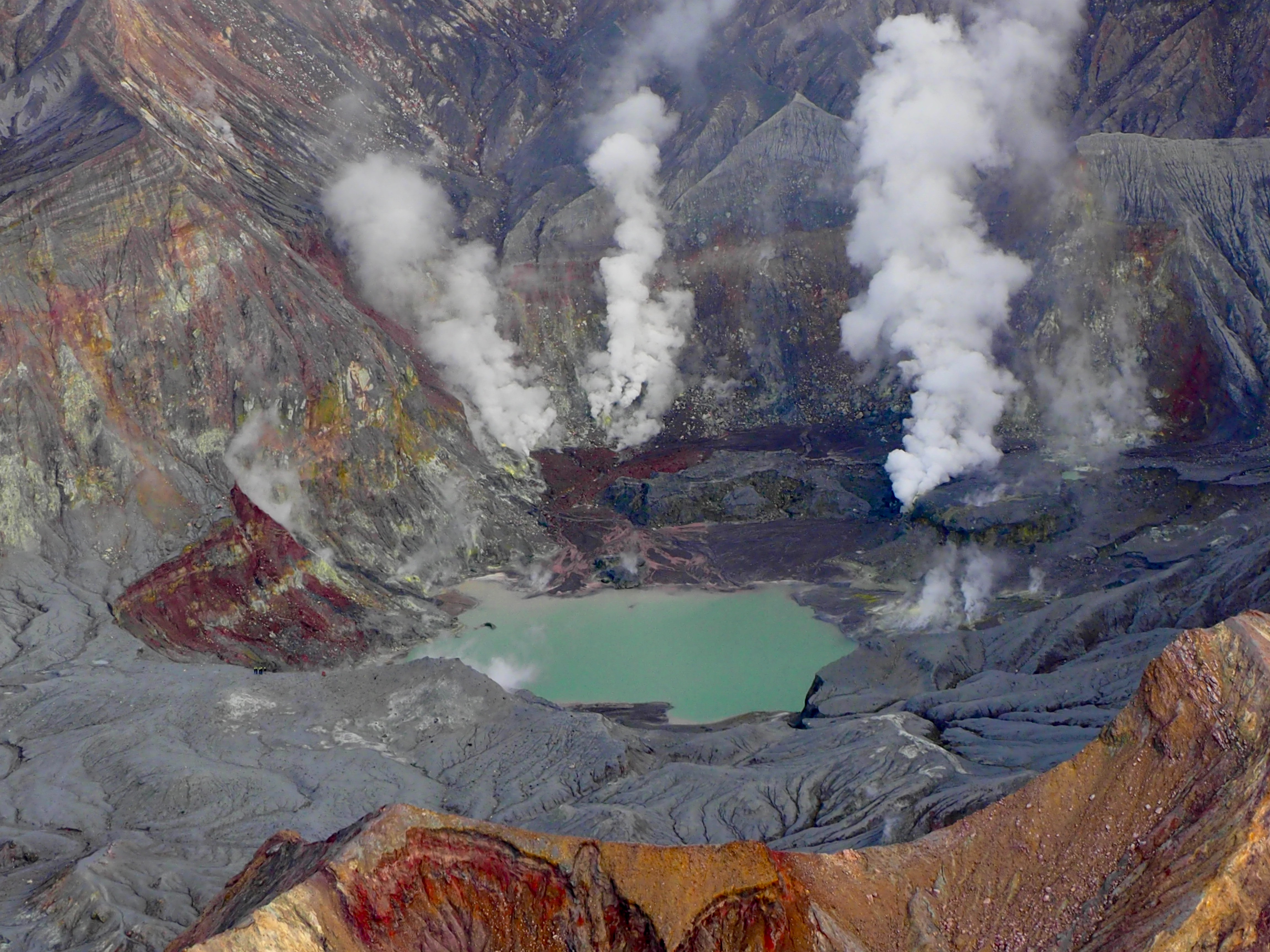 A sub-discipline of volcanology research is centered around improving forecasts of when volcanic eruptions may occur. While strides are being made in this area of research, not all volcanic eruptions are the same, and some are harder to forecast than others. Monitoring around active volcanoes is used to forecast if an eruption is possible in the near future. Parameters such as seismic activity, flow of electrical current through rock, deformation of the ground around the volcano, and changes in the gas emitted from volcanoes (such as an increase in sulfur dioxide) may all be a precursors to an eruption and are often part of a monitoring program. However, changes in these parameters may occur without an eruption, and sometimes eruptions may even occur without any notable changes in those parameters.
The Whakaari eruption was a steam-based eruption, among the hardest to monitor. Shane Cronin, a Professor at the University of Auckland, explains that in these types of systems, water is trapped in rock pores, and any changes in the system may cause a sudden expansion of the water into steam, leading to catastrophic eruptions.
The likelihood of continued eruptions of Whakaari are steadily decreasing, but these events beg the question of what can be done to assure safety of those who live near and travel to active and dormant volcanoes. Massey University volcanologist Associate Professor Gert Lube and others were recently awarded a million New Zealand dollar grant to test volcanic eruptions and flows, similar to those that occurred in Whakaari, using computer simulations. They hope their research will help more effectively assess risks associated with volcanoes like Whakaari.