Why is this nebula shaped like a butterfly?
A physicist dives into the science behind a new Hubble photo
Hubble recently a breathtaking new photo of the Butterfly Nebula. Its delicate clouds of gas stretch outward like wings, in a perfect embodiment of the form and spirit of its eponym. But being a physicist, of course I couldn't just appreciate the picture. I had to ask, "Why is it shaped that way?"
Some scientists that before the Butterfly Nebula was a nebula, at its center was a binary star system, orbiting in the plane that is now viewed as the body of the butterfly. A thick, oblate cloud of dust orbited with the stars on this central plane.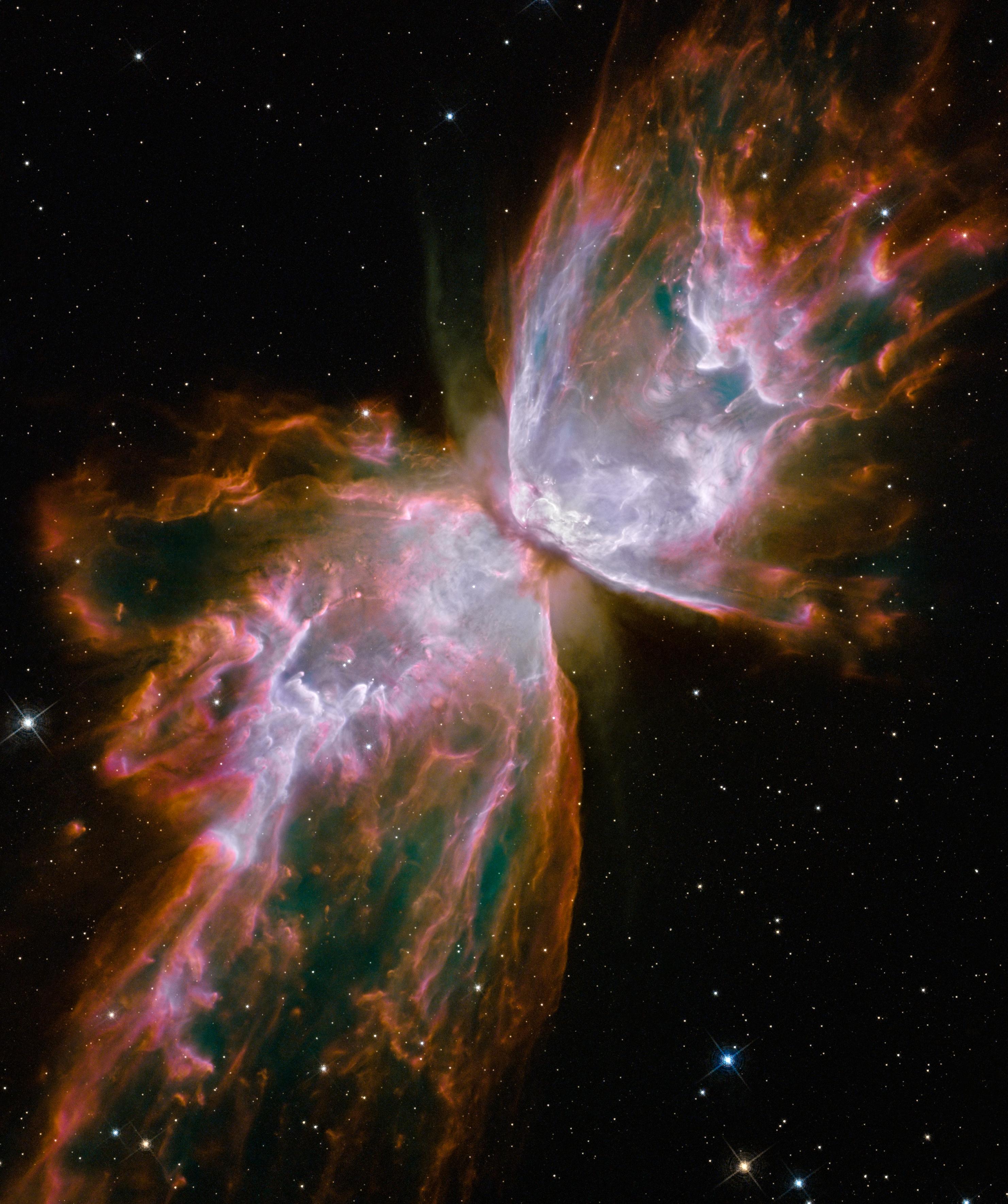 At some point, the larger of the two stars ran out of fuel. No longer able to support its own weight with the outward pressure created during fusion, the core of the star collapsed in on itself. As it became smaller, the pressure and temperature at its center grew larger — the heat suddenly reigniting the fusion. The outer layers of the star were flung outward at the sudden return of the push-back from the core. They blasted away from the star in all directions, but the thick traveling along the orbital plane. The result was two opposing jets of hot gas racing away from the star at hundreds of thousands of miles per hour, creating the wings of the butterfly.
In the newest photo, they've looked at radiation all the way from UV wavelengths to infrared, learning more about this mysterious object than ever before. The new picture reveals streaks of ionized iron across the bottom of the left wing and top of the right wing. Scientists aren't sure yet why it doesn't have the same symmetry as the wings, but it could be a clue about more complexities inside the butterfly yet undiscovered.
A number of mysteries about the Butterfly Nebula remain hidden: for example, scientists still aren't positive their binary star theory is correct. But there is little doubt that the impetus of the huge ejection of gas into the wings of this nebula was the dramatic death of a star. Just as the butterfly is a universal symbol of transformation, the Butterfly Nebula's story, too, is a tale of rebirth.