Frequently Asked Questions
Last updated
August 25, 2021
We're providing answers that are specific to Massive's policies and procedures, so these answers might not apply to other publications.
Joining the Consortium
Q: I want to join the Consortium, but I can't afford the training fee. Can I still sign up?
A: Definitely! Here's the form you can fill out to request a sponsored (free) training membership.
Q: I'm not a scientist, can I still join the Consortium?
A: Yes, you're welcome to join! Just be aware that the training is geared toward researchers and students in STEMM fields. That said, we have plenty of journalists, data scientists, and people working in other jobs in the Consortium.
Q: I live outside the US, can I still participate?
A: Definitely! All our training is completely remote and asynchronous, so you can participate from anywhere in the world. We sometimes have live events or meetings, but they are always optional.
Q: I signed up - now what?
A: You'll start receiving our onboarding emails in the next few hours. Read through the instructions in the emails and dive in!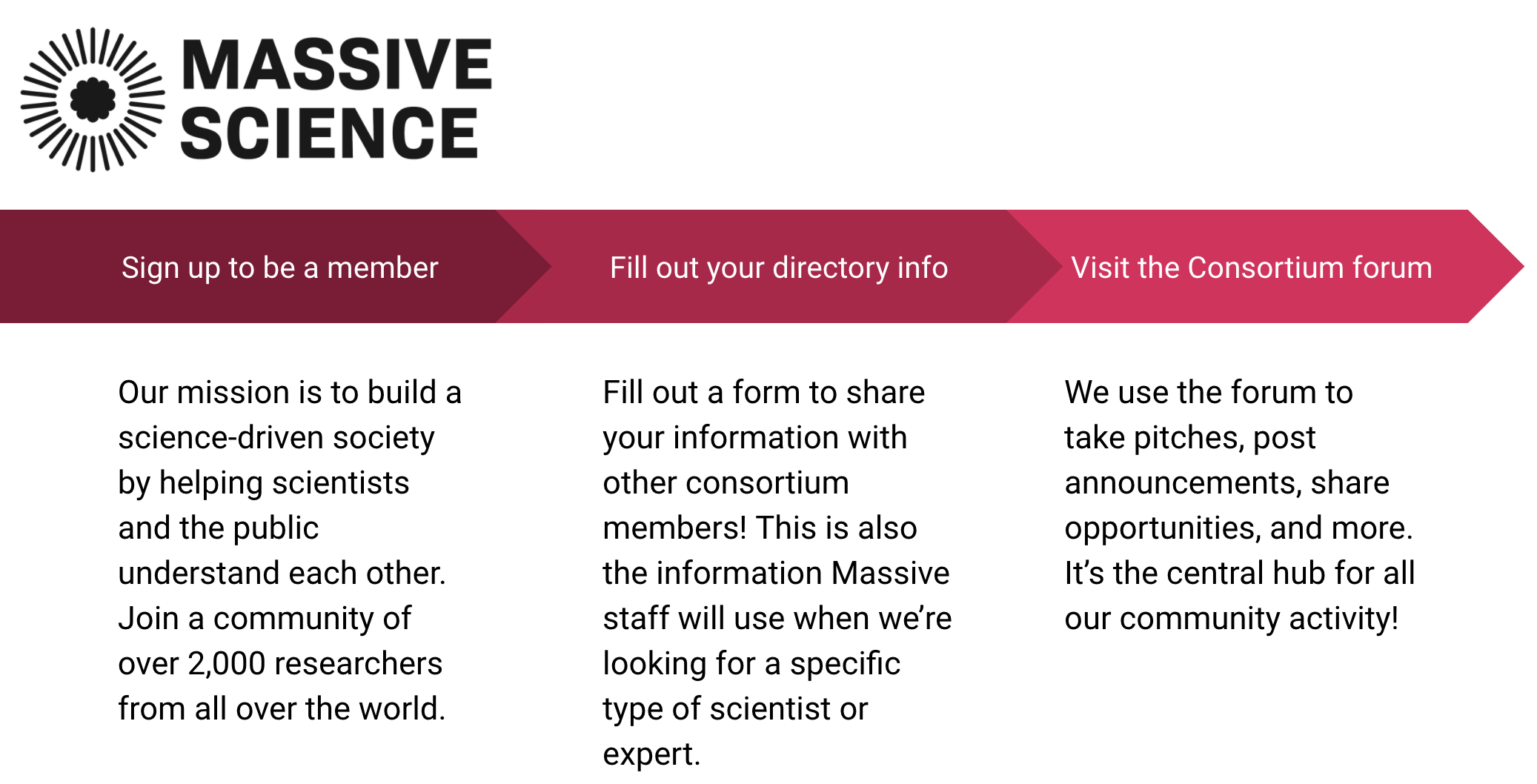 Publishing
Q: Can I write about a study I helped with or led?
A: Yes, as long as you let us know what your involvement was so that we can include an appropriate disclaimer or note. If you're working with another outlet, remember that every publication has its own policy on this. Make sure you check in with your editor.
Q: Can I write about a study if I know the author?
A: Yes, as long as you let us know so that we can include a disclaimer if needed. If you would honestly consider someone your friend, have worked on papers together, are in the same lab group, etc. with someone you plan to write about, that definitely requires a disclaimer. If you have just met the researchers once or twice, there is no need for a disclaimer. At Massive, we definitely take it on a case-by-case basis.
Q: How long will it take for my piece to be published?
A: It depends on a lot of factors! If something is timely, let us know. You can always reach out to Massive staff to ask about our current timing and backlog.
Q: Can I write a second article while my first article is still being edited?
A: No, we generally ask you to pitch and edit just one article at a time. You will learn quite a bit through the editing process, and we hope that process will help you create stronger pitches and pieces, in the future.
Q: How recent does research need to be for me to write an article or note about it?
A: We generally cover research published in the past 6 months.