How to Start Writing for Massive
Last updated
August 25, 2021
Are you onboarded as a consortium member and eager to contribute to Massive? Here's how.
Throughout this process, it is important to be mindful of our and meet your deadlines, or communicate about why you can't. (It's okay if you need to move your deadline, we understand that sometimes life gets in the way. It's not okay if you don't let us know until the day of, or to ignore communication asking about your draft.)
Here's how the editorial process works at Massive (for articles only - this does not apply to Lab Notes!):
Pick a piece of peer-reviewed research to "translate" for wider audiences. More on how to pick a paper here; a preview of our translation template is here. You can also write an op-ed about a topic you care about.
Read our pitch guidelines, then pitch to us in the forum. Remember, don't write a full draft before you pitch! Massive staff will most likely ask a few questions about your pitch to make sure that we are all on the same page, and might ask you to shift your focus or add something else. This is an important part of the publishing pipeline.
If a Massive staffer accepts your pitch, we will set you up in our content sharing system, called GatherContent. More detailed info on getting started with GatherContent is available here. Note that we do not accept all pitches. We will generally give you feedback if we choose not to accept a pitch, but feel free to ask us about it if we don't.
Read through our writing tips and style guide, and then get to work in GatherContent! You will complete a template that will help you think about the structure of your piece. Again, don't write a full draft yet!
Massive staff will give you template feedback and the go-ahead to write your draft. You write your full draft, including links to important sources, and complete social media language to help us share your final piece.
A professional editor will work with you to edit your piece. This is a collaborative process that might take some getting used to. Your editor will make changes directly, ask questions, and leave feedback for you. Once they're done with one round of edits, they will change the status to "in progress," which means that you should work on responding to their changes. If you don't understand why a change was made, please ask (don't just change it back to the way it was). Remember, you both want the piece to be as exciting and accurate as possible.
After a few (usually 2-5) rounds of editing and fact-checking, your piece will be switched to "Draft Closed." If you suddenly realize you need to make a change, this is the time to speak up — we try not to change the article after it is already published. You should email Dan (dan@massivesci.com) about the change and why you think it is important.
We'll publish your story as soon as we can. This may be several weeks after you complete your work. We have the final say on things like the story headline, but we try to work with you to make sure it's perfect.
Your last task is to share the published article widely! We will post it on social media and include it in our newsletters, but it is really helpful if you share it, too. We have guidelines to help you write great social media posts. In addition, you can email it to your lab, send it to your family, or print it and post it on your door.
Other consortium members may write peer commentary on your article, which will be posted at the bottom of the piece. You can respond to them in the Consortium. We encourage you to provide peer commentary on other people's stories! This is more common for research translation articles and less common for op-eds.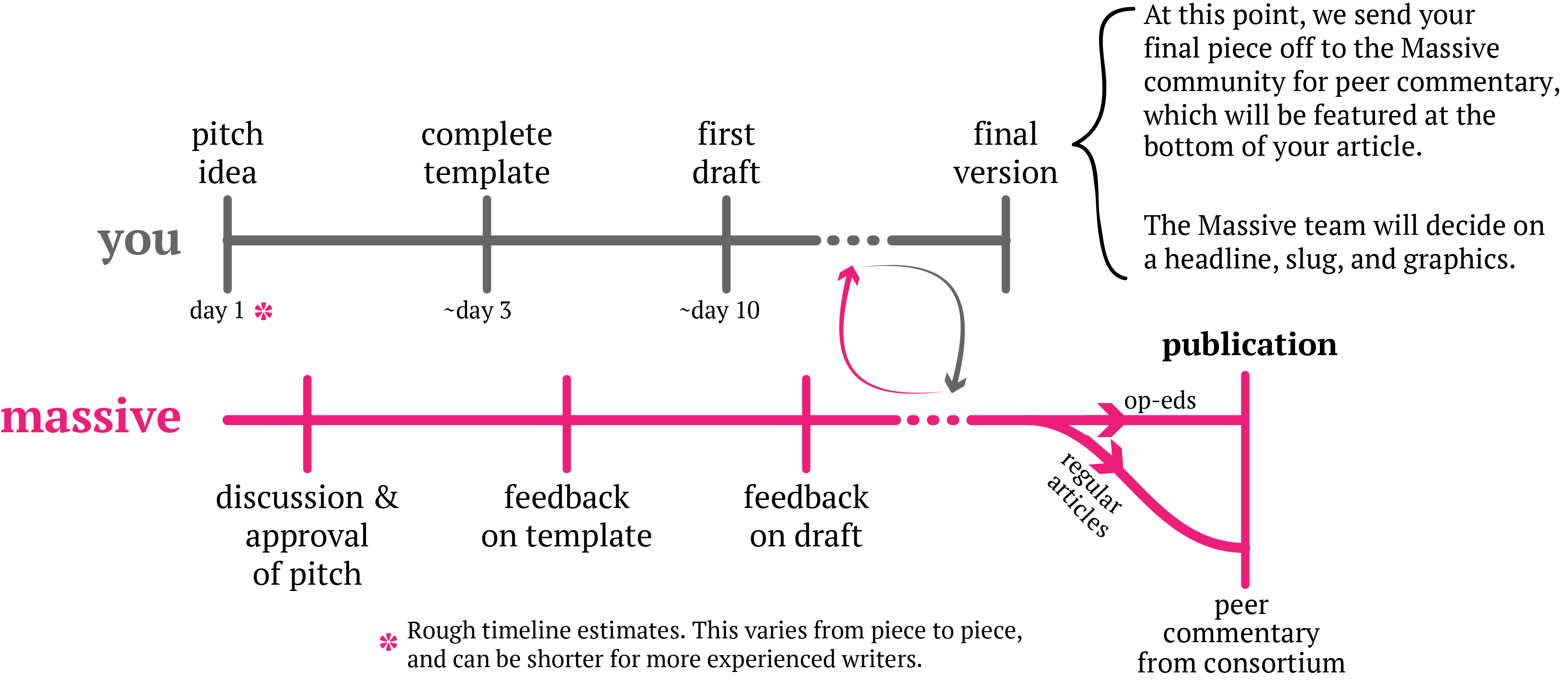 Yay, the draft is published on Massive! What now?
Pitch again! We are open to a variety of genres and approaches – and media. We do recommend that, for your second piece, you pitch a piece that will use our op-ed and personal essay template.
Check out your payment tier (depends on how many stories you have published so far) and invoice us.