Our Editing Workflow + GatherContent
Last updated
August 25, 2021
If your pitch was accepted by an editor, congratulations! You're ready to move onto drafting your article and working with an editor to tell an amazing story.
The first time your pitch is approved, you'll be invited to join GatherContent. We use GatherContent to draft, edit, collaborate and set due dates on pieces you work on with us. It will take a few minutes of moving around in GatherContent to see how it works, but it's much better to use for our workflow than other document-sharing services. It allows us to set deadlines for drafts, track their status (anytime the status says … In-Progress, the ball is in your court to write), and save a revision history of each draft.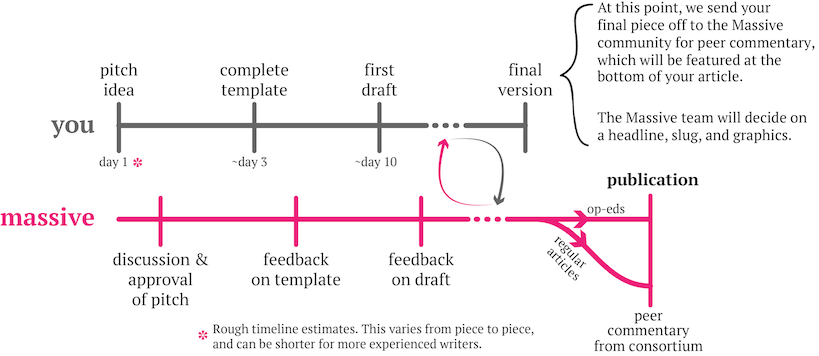 A Massive editor will create an assignment based on your pitch. You should be able to access this document. It consists of three parts, which you can navigate using the tabs at the top: Part 1 helps you put together your Story & Structure by helping you translate the scientific paper you want to write about or summarize your op-ed; Part 2 is when you get to write and work on your Article Draft; Part 3 is when you help us prepare the Audience & Sharing by identifying key people or organizations who will be interested in spreading your story and suggest some social media posts we can use when we share it.
The status of the assignment will be Story & Structure In-Progress, and you'll see a deadline for finishing this first part of the training/writing process. This template is different from the draft of the body of the article. Finish the translation template by the due date Massive staff set for you. When you're done, set the status to Story & Structure Done.

We will comment on your translation template, change the status to Article Draft In-Progress, and send it back to you. Now it's time to start writing! Write a full draft based on the feedback you got in the Story and Structure phase. Don't forget to include links to help us with Step 3: fact-checking . We also need you to fill out the Audience and Sharing tab (3rd tab). First, identify keywords and hashtags that are already in use—this way, readers can find the article when they're searching. Second, identify key people and organizations who will be interested in spreading your story's message—the further it spreads, the more it'll be read! Third, draft some posts our editors can use when sharing the piece on Massive's social media accounts—we'll come up with posts, too, but knowing how you'd summarize the story is extremely helpful for us!

When you've finished your draft and the social language, update the status to Article Draft Done. Then, Massive editors will provide you with comments and feedback about your draft. You may go through multiple rounds of edits—this is normal! The editor will change the status back to Article Draft In-Progress if changes need to be made.

Finally, when the editor feels your piece is finished, they'll update the status to Fact Checking In-Progress. A Massive staff member will go through your piece, looking for potential factual issues. This is especially important for op-eds. If they need more information from you, they'll let you know.
When Massive staff feels the piece is finished, they'll update the status to Draft Closed, and you'll be prevented from making any further changes to it.
Here's some other things to consider while drafting:
Sometimes there can be many stages of draft revisions. You can always go back in time to look at past versions of the draft. If you would like to compare versions, make sure you click the ••• icon at the top right of the document when viewing a draft.
Our editorial team has the final word on the headline, deck, article contents and image captions. But we'll work with you throughout the edit process to make sure we're representing your story and the science as well as we can while inviting in as many types of readers as possible.